Back to News
Blog
CyberOptics Showcasing Yield-Improving, High-Precision Sensing Solutions at Virtual SEMICON West
Sensors save time, save expense and improve yields in semiconductor fabs
CyberOptics will be participating in the virtual SEMICON West show, July 20-23rd. During the show, the company will feature its new In-Line Particle Sensor™ (IPS) and Auto Resistance Sensor™ (ARS) for semiconductor tool set-up and equipment diagnostics.
An extension of the industry-leading WaferSense® and ReticleSense® Airborne Particle Sensor (APS) technology that is documented by fabs as the Best Known Method (BKM), the new In-Line Particle Sensor (IPS) with CyberSpectrum™ software detects particles in gas and vacuum lines 24/7 in semiconductor process equipment. The IPS quickly identifies monitors and enables troubleshooting of particles down to 0.1µm.
Process and equipment engineers in semiconductor fabs can speed equipment qualification, shorten equipment maintenance cycles, lower equipment expenses and optimize preventative maintenance plans.
The new WaferSense® Auto Resistance Sensor™ (ARS) with CyberSpectrum™ software for semiconductor tool set-up and diagnostics will be also featured. ARS enables real-time resistance measurements of plating cell contacts in semiconductor Electrochemical Deposition (ECD) applications.
For wafer-level and advanced packaging metrology and inspection, the new WX3000™ system will be highlighted. Performing two to three times faster than alternate technologies at data processing speeds in excess of 75 million 3D data points per second, the NanoResolution MRS™ sensor-enabled WX3000 systems deliver throughput greater than 25 wafers per hour. 100% 3D and 2D metrology and inspection can be completed simultaneously at high speed, as compared to an alternate, slow method that requires two separate scans for 3D and 2D and only a sampling of a few die.
The proprietary NanoResolution MRS sensor, deemed best in class, meticulously identifies and rejects multiple reflections caused by shiny and mirror-like surfaces. Effective suppression of multiple reflections is critical for highly accurate measurements.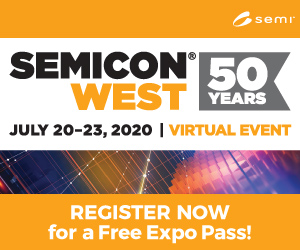 Join us for Semicon West 2020 and register as our guest. We are looking forward to showcasing our yield-improving, high precision sensing solutions. Click the banner to register now.